Magnum P.I. by LJN Toys

"One of the cliches of my profession is that to get information from a bartender you have to slip him bills of various denominations. Bills that you can't afford with pictures of unfamiliar presidents and usually for information that isn't worth it." - Thomas Magnum
That pretty much sums up one of my all time favorite TV shows. A poor handsome rogue living off a rich man and solving crimes on a beautiful landscape.
The best of macho escapist fantasy.
I was a huge fan of this show as a kid and have been rewatching it on Netflix as an adult and I love it even more. I am a sucker for the roguish detective shows of the 70's and 80's.
The plots were never too deep or involved and the show plays
out a bit like a comic book or maybe a romance novel,
but the ever present magnetism of Tom Selleck
pulls you into the world of the show and never let's you go.
Naturally, since the show was a huge hit, merchandise was to follow.
There is all kinds of Magnum crap around from that era, but the best piece is
the action figure and Ferrari put out by LJN in 1982.
I remember seeing these sit on the shelves for some time back then. Most of the kids I knew were going after the Michael Knight and K.I.T. set rather than this one.
I am sure my mother and every other red-blooded American female
at the time could have had lots of fun with this figure set.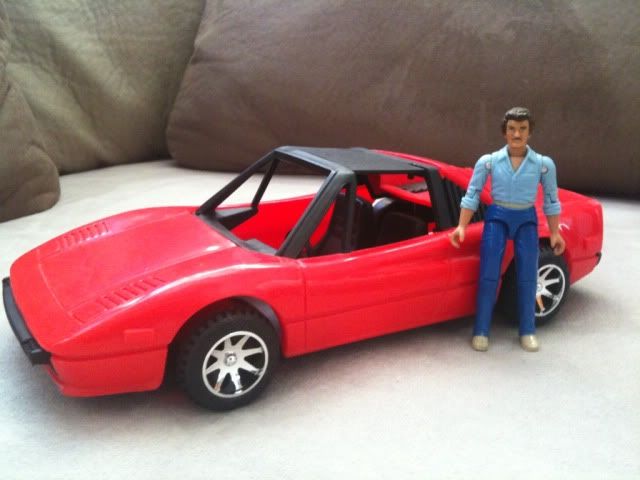 Over time this set has become kind of rare and is very difficult to find in
good condition with the roof attached and the Magnum figure unscathed.
The best thing is to find a boxed example and open it....
which is easier said than done and can be extremely
pricey
.
Magnum is your basic 3 3/4" figure of the
time with a Megoesque body style,
a sweet stache, and a wide eyed hangover look.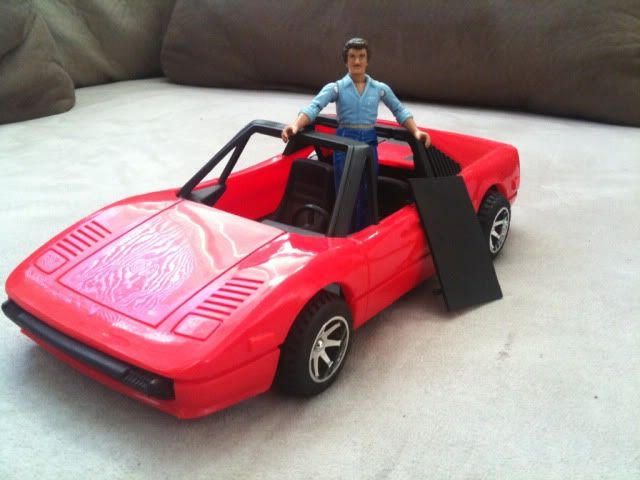 The Ferrari is a beauty. A deep red with chrome wheels and
a sweet Magnum P.I. sticker on the back.
I am very happy to finally be in possession
of such a great piece of 80's TV nostalgia.
It has been a long wait, but well worth it.
Now to find a way to move to Hawaii and live on the
beach next to some mansion and hang out
with girls in bikinis for a living.
For more info on this great set,
check out the
3 3/4" Archive
and
Plaidstallions.com
.